Industry
Tax compliance services, management consulting
Tools
Figma, Miro, Notion
The Client

KPMG Ignition Toronto, part of KPMG's global network, specializes in facilitating dynamic, technology-driven collaboration in today's virtual work environment. It serves as a hub for innovation, offering immersive digital experiences to support clients across various sectors in harnessing technology and driving innovation.
The Product

One Port is KPMG Canada's innovative tax compliance software. As a comprehensive tool, it streamlines tax practitioners' workflows and offers clients an intuitive, all-in-one solution for their tax needs, pushing KPMG's tax unit to the forefront of complex corporate tax digital products.
One Port has undergone several significant updates since its inception. Each enhancing its functionality by integrating more analog processes into our digital process. Our most recent update began with thorough user interviews, usability testing, and analytics review. Based on these insights, we developed a roadmap to expand the platform's services, making them accessible to all clients.

As the Design Manager, my role was to collaborate with product team leaders to align business objectives and understand development constraints. I then led our design team in planning, developing, and implementing a new dashboard design aimed at boosting key performance indicators, particularly client satisfaction, by enabling more comprehensive workflow management within our platform.
The Dashboard View in One Port aims for increased efficiency by allowing our clients to manage their work and services all in one place. The user-friendly interface allows seamless navigation between tasks, simplifying the complex tax workflow and enhancing user productivity.
A streamlined questionnaire
One Port's Questionnaire feature kickstarts the tax service process, enabling clients to easily share their financial and business details of the past year. This proactive approach accelerates the tax preparation phase, ensuring a smoother client experience.
Document upload and file exchange
The secure Document Uploads feature transforms the way files are exchanged. Gone are the days of email attachments – One Port offers a safe, integrated platform for all document exchanges, streamlined communication through our new chat functionality all to ensure data security.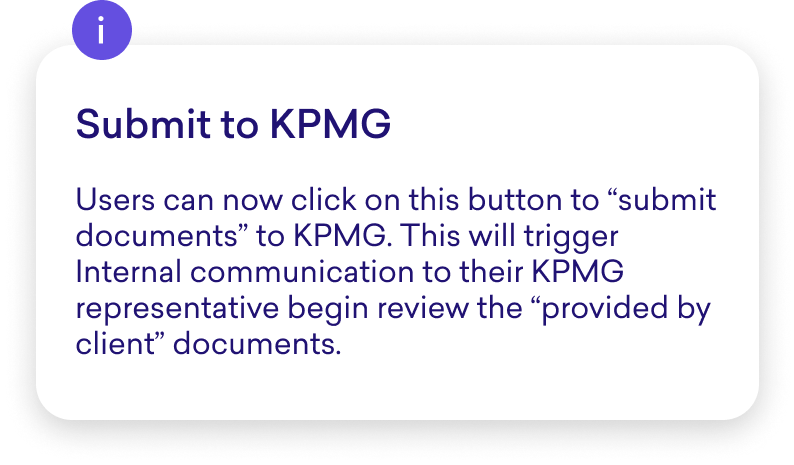 Simplified Billing and Payments
One Port simplifies the payment process with its Stripe integration. What used to be a lengthy and complicated procedure is now a straightforward, user-friendly experience, making bill payments hassle-free for our clients.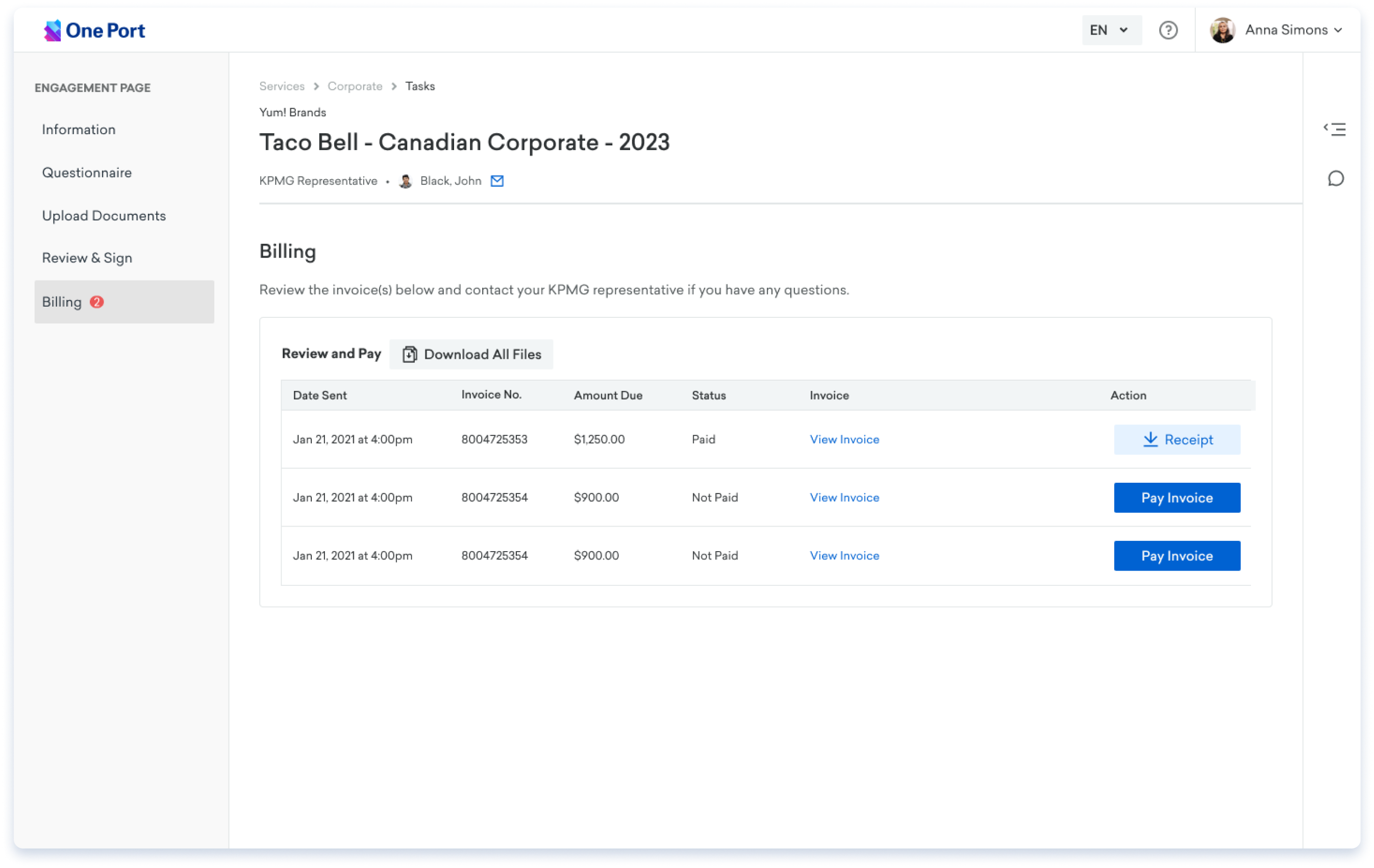 As the UX Design Manager leading One Port, my challenge was to deeply understand the frustrations and needs of both KPMG's internal users and our clients.

We successfully collaborated with our product leaders to develop a strategic product roadmap, culminating in a major update that redefined tax compliance solutions within a tight timeline. Our users, both internal and external, have enjoyed the update and look forward to more iterations and features.